NEW BOOK! THE SNAKE ROD
by RL "Bob" Nunley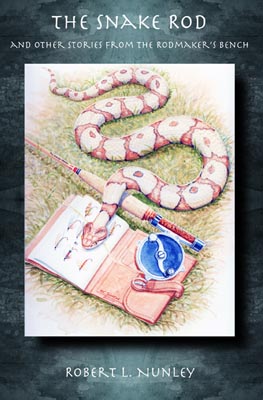 The Snake Rod is a collection of 27 short stories, some wild, some crazy, most humorous, but all true!
Here's what readers are saying about the book:
"Totally shot my day here--your book came in the mail and I got to reading it and couldn't put it down. Think I scared the cat laughing so hard! Wendy is out with Girl Scouts today, but she is going to be reading this, too, when she gets home. Very funny book." Bob Gustafson
"Bob, Finished your book, fantastic! Write another one, please. Thanks" Jim Dugan
"I just got my copy of Bob's book and read through the intro and first chapter. If the rest of the book is as entertaining as the first, you owe yourself to read his book." Chris Raine
"I received my signed copy from Bob on Monday and finished the entire book by Tuesday night. Bob really brings out the whole range of the readers' emotions, from knowing smiles to light chuckles, from gut wrenching tears down the face laughter to misty eyed recollections of his Dad that brought the same feelings I have for my late father. Well worth the read!!" Will Price
Copies ordered from this site are signed and personalized by the author.
Price $24.95 Shipped First Class Mail in the US
Please Inquire for International Shipping Rates
or about upgrading to Priority Mail Shipping
If you purchase using PayPal, just click the "Buy Now" link below
or
Send a check or Money Order to:
R L Nunley
PO Box 1842
Mountain Home, AR 72654
Unsigned copies are available from the Publisher at
If you have any questions, please email Bob Nunley at
bobnunley@rlnunley.com
Copyright © 2010-2017
R.L. Nunley, Rodmaker
Bob Nunley
PO Box 1842
Mountain Home, Arkansas 72654
(479)414-6470
email: bobnunley@rlnunley.com